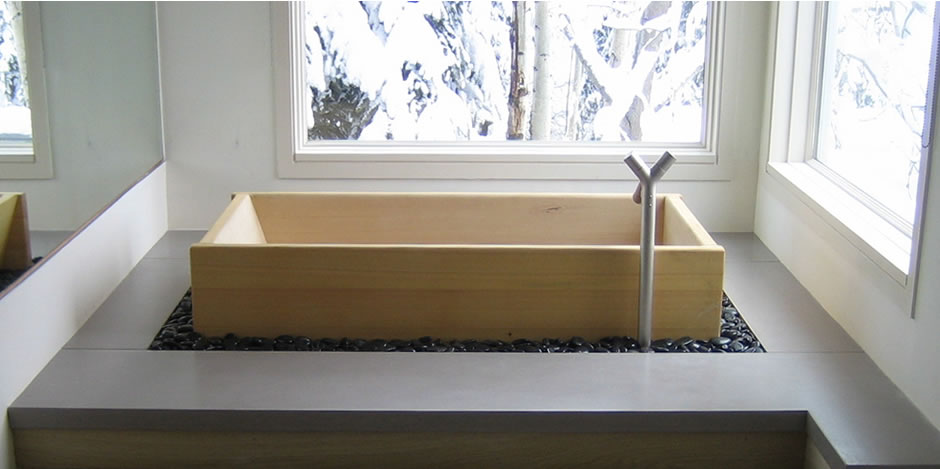 Wood Bathtub・Hinokiburo(Japanese Cypress Wood Bathtub)Relax and Refresh
Experience the feeling of a Japanese hot spring "Onsen" in the comforts of your own home! Look forward to, and be excited to come home daily to soak and relax in your warm and natural wood bath.
Trick your sense of feel and smell to think that you were in a secluded forest environment. Cypress Wood smell has relaxing and refreshing properties and has even proven to kill bacteria.Treat yourself like royalty by filling, soaking and blowing away your stress and fatigue.
Residential Wood Baths, Hinoki Wood Baths, or Commercial Baths
Whether you are seeking a residential wood or Hinoki bathtub, or even a commercial hotel bath, please call us so that we can discuss what we can do to fulfill your needs. We will be glad to masterfully craft your desired bath or Japanese bathroom that will meet and exceed your highest of expectations. We will hand pick your Kiso Hinoki wood, Craft all of the pieces from scratch, treat it for longevity, then fabricate, the pieces to perfection, all in our local workshop. This will ensure a speedy turnaround.
Leave it to us to unleash the potential of your relaxation space, namely, your bathroom by planning, crafting of the materials, and finally installing your new Japanese style bathroom.
Please inquire if you have any questions on wood baths or outdoor wooden baths.
Wood Bath Style Selection
Box Type
The standard wood bath model. A Square Box using thick planks for steps, a bold and heavy presence.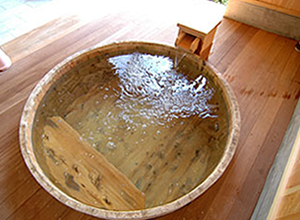 Barrel Type
"Oke"or barrel style basic bath。The round countours will soften and calm the room.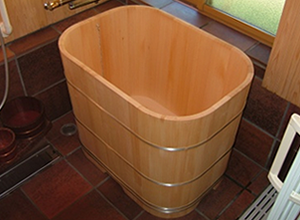 Rounded Corners Box Type
Popular model since the beginning of the Showa Era. For those looking for a full body soak while sitting.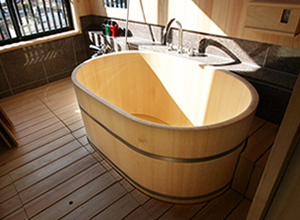 Oval Type
For those focussed on design and aesthetics. Relaxation is a given.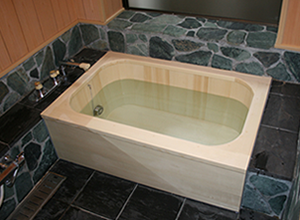 DX Rounded Corners Box Type
The wood bath that screams sophistication. This bathtubs' presense will undoubtedly add elegance and class. This model will be the new standard.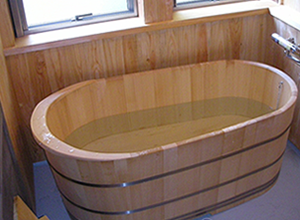 Modern Japanese Type
Relaxation guaranteed. The perfect balance between being "eco" and providing functionality.
Wood Type / Wood Grade

Japanese "Hinoki" Cypress
Chamaecyparis obtusa (Japanese cypress, hinoki cypress or hinoki; Japanese: is a species of cypress native to central Japan. It is grown for its very high quality timber in Japan, where it is used as a material for building palaces, temples, shrines, traditional noh theatres, baths, table tennis blades and masu. The wood is lemon-scented, light pinkish-brown, with a rich, straight grain, and is highly rot-resistant.
Yellow-Cedar (Alaskan Yellow Cedar)
The Alaskan Yellow Cedar grows along the Pacific coast of North America from Oregon up into Canada and Alaska. It likes moist climates, and thus it is only found along coastal areas. Yellow Cedar is a prime pick for saunas and pool house construction, since the wood thrives in wet environments. It is also commonly found in Japanese designs for gardens and architecture; its light weight and high strength allows it to be worked in small and intricate construction like Shoji but also in large garden and outdoor structures like pergolas and gazebos, due to the availability in large timbers.
How to Order a Japanese Bath/Bathroom
1. Please select the style or shape of your desired bathtub.
Box、Rounded Corner, Deluxe Rounded Corners, Barrel Type, Oval Shaped, or Japanese Modern.
We can also craft special shapes to suit your needs。Feel free to inquire.
2. Specify size and measurements.
Using the standard sizes as a guide, place a request for length width and depth.
Provide details on where the bath is to be installed as well as the clearances to the bathroom. This will give us an idea whether to assemble the bath on site or whether we can bring the bath preassembled to cut down installation time.
3. Choose type of wood and grade.
Grade refers to having knots or using knot free (clear) boards。
Knotted lumber can be purchased for a reasonable price, while clear boards may add to the cost, but the finish will be of highest quality.
※The grade only affects the aethetics of the bathtub and in no way alters the durability.
4. Choose your options for special order.
We will materialize your dream tub.
Request options such as; making one side a backrest, headrest, seat, handles, and recirculation system.
*Bathtub lids are not included, please provide shape if one is needed.
5. Estimate/Quote provided.
We will provide an estimate and turnaround time based on your provided information. If you have a budget, please let us know beforehand.
We will make an offer based on your allotted budget.
6. Crafting.
We will craft your bathtub with utmost care and presicion at our local workshop located in the Greater Vancouver Area.
7. Delivery/Installation.
A representative will contact you, then we will arrange carefull delivery, and we will complete the final install.
Our installations representative will be present at the time of delivery and we will see to it that the tub has been installed properly.
Maintenance and Repair
Allow us to keep your bath in pristine condition.
To ensure comfortable bathing, we recommend periodic maintenance to your Hinoki/Wood bathtub.
We also provide repair services.